BENEFITS OF THE DRAINING GEOSYNTHETIC MACDRAIN® SF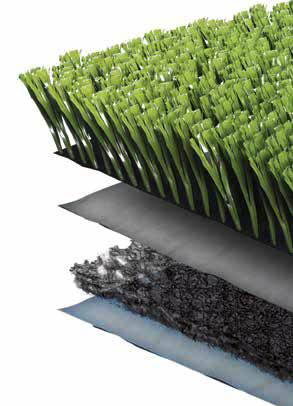 Large areas covered by grass have an indispensable need for a drainage base. This need can be
transformed into benefits with the installation of the drainage geosynthetic MacDrain® SF,
which is a geocomposite developed by Maccaferri especially designed for water drainage on
sports fields installations.
The main feature of the geocomposite is the high drainage capacity and the outflow of water,
resulting from the elements of the product. The MacDrain® SF is composed of three sheets: 1)drainage geotextile 2)three-dimensional flexible filaments with 90% flow space and 3)waterproof blanket.
The MacDrain® SF is applied over the compressed crushed stone, used to level the ground. The synthetic grass is installed directly above the geocomposite. Due its ease of installation, this
product is highly indicated for projects that have a short time to run. Its full installation
requires approximately 10% of the time in comparison to a conventional drainage system.
The geocomposite also promotes a damping effect on the sportive field, reducing the risk of
player injury and turning the synthetic field conditions even closer to a natural lawn field.
Other advantages are: significantly lower costs; reduced field temperature and the reuse of
the collected water.
BENEFITS OF THE DRAINING GEOSYNTHETIC MACDRAIN® SF