LEO MESSI FOUNDATION AND SPORTLINK – A SOCIAL PARTNERSHIP
How much is possible reducing violence by investing in human development and creation of opportunities for children?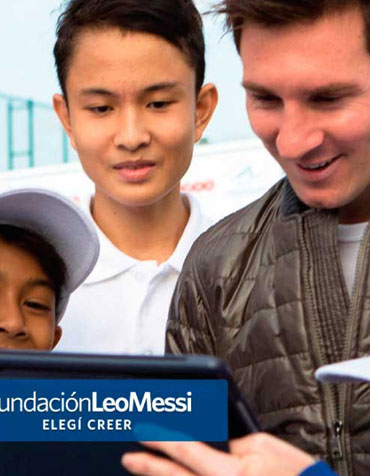 Fundación Leo Messi aims ore than answering this question. Through the development of projects that provide access to health, education, and especially the practice of sports, the Leo Messi foundation acts at the origin of social problems.
Its goal is to create expectancy for children and teenagers who dream to become soccer players while keeping them away from drugs and violence that plague poor communitiesaround the world.
This is the mission of the Foundation, established in 2007, from the perception of owner Leo Messi about itself importance as a public figure. The empathic and altruistic posture of Leo Messi made him realize that staying close and supporting those who need is fundamental. Share the strength of fighting for their dreams works as an example and is an incentive for needy children keep fighting.
The partnership between Fundación Leo Messi and Sportlink results from the similarity between the institutional values and social purposes. According to Adriano Gelli, director of Sportlink, "finding partners with the same purpose of creating a future full of opportunities for children and improve the society security situation is exciting and motivating."
From this partnership emerged the first Project: a football field at Candeal community on the suburbs of Salvador city. The revitalization of the field gathered Foundation Leo Messi, Sportlink, Pracatum (directed by singer Carlinhos Brown) and the City hall, all in favor of a noble cause: to transform the space into a sport center able to settleactivities for social integration of needy children and teenagers.
Besides the direct benefit of more than 3.000 children and teenagers, this project gained importance once it integrates families and society. For Sportlink, the gratification of projects like these comes in form of children smiling that give us the sense of accomplishment and motivates us even more of searching for new social projects.
DATASHEET
Grass: Ecograss
Type: Hybrid Fibrillated
Distributor: Pontal Esportes
LEO MESSI FOUNDATION AND SPORTLINK – A SOCIAL PARTNERSHIP